Jul 28 2004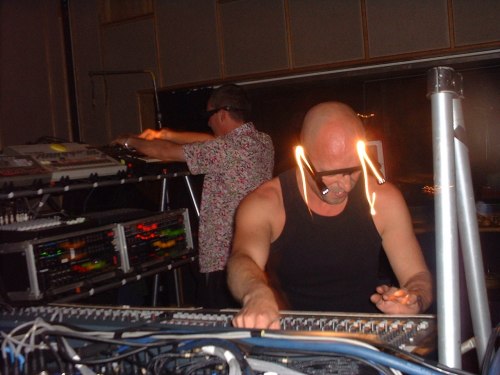 Orbital's last and final event (2009 note – obviously this is not quite true now!) was at the John Peel Maida Vale gig. The gig was broadcast on July 28th 2004 on Radio One.
The night was special for the obvious reasons but i think i echo everyones thoughts by saying that they ended the Orbital career in style!
We hosted a meetup at the Warrington Hotel on the afternoon for everyone who had won tickets and for those who just wanted to come along for a few drinks. Many of the non-winners decided to try their luck by blagging their way in and it was worthwhile!
20 Radio One competition winners and 20 Orbital invites plus many blaggers (we did it again!) witnessed 1 hour and half set plus an amazing 10 minute encore of "Remind".
We have loads of photos from the night in the 2004 tours section You can also download the final LIVE track from Orbital. This is the encore improvised version of Remind.
Enjoy the Tune!
Date : 28th July 2004
Location : Maida Vale Studios, London in England
Orbital – Remind (Live encore improvisation version)
One Response to "Maida Vale – The FINAL Orbital Event"
#

Goatlips

on 05 Mar 2012 at 4:05 pm

I really like the Remind track! I even have it on my 'best of Orbital' one disc compilation:
…Does the whole set exist as a download?
Leave a Reply