TOURS - 2001 - Tour Diary
2001 WEBMASTER TOUR DIARY
Sheffield - 5th May 2001 - The first gig. I decided that I was going to drive to the first four gigs and then join the crew on the bus at Edinburgh. After 80 odd miles to Sheffield, I arrived at the Octagon. I've seen them play here before and its not a bad venue to start a UK tour. The sound always travels well but its one of the worst places to get out to the bar, toilets or whatever.

I briefly spoke to Paul and Phil before and I was expecting two nervous people but was very surprised to see a very relaxed atmosphere backstage. I left Paul and Mickey Mann discussing sound tactics - all very technical and nothing I could contribute to of course :)

Checking round the entrance I noticed a load of X-Ray head masks being given out - a record company thing and very amusing as well. Plump DJ had just started and the place was filling very very slowly. With approx. 20 mins left of his set, the whole place just became a mass of bodies. Orbital hit the stage at 9pm to their usual Clockwork Orange theme music. The crowd response was excellent. I want to try and avoid discussing the tracks on the tour early on so not to spoil things but I will say that there were quite a few classics and a reworked gem which gave me that tingle down the spine so many times as they played it. Amazing set and with the encores I've never seen a mass of a crowd react as good for many, many gigs. The first gig over - the second one is my local gig in Wolverhampton (I live in Birmingham).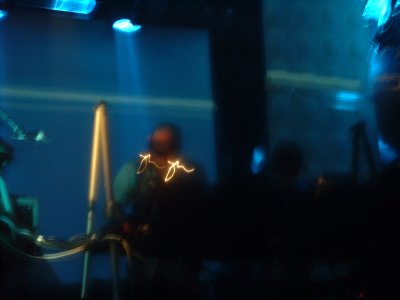 Orbital - Sheffield Octagon Centre - May 5th 2001 - Pic by Loopz


More Pictures from the night can be seen by visiting the TOURS page for Sheffield

Miles : 168
Stereo : Aston Villa vs Coventry commentary (bye bye Coventry - Grin) . Lumo - Demo Tape . Global Communications - 76:14
---

Wolverhampton - 6th May 2001 - A nice short drive from my local pub in Birmingham to Wolverhampton. Many of my friends and work colleague's were making their way up to the gig as well so this was to be a special night for me.

We arrived at the Loopz Visitor Meetup and a big thanx to all that turned up - the place was packed. A big warning for the people at the Little Civic....when there is a gig organized it may be worth putting more than two members of staff on!!! Most of the people I was with had never seen them live and only heard one or two tracks. Orbital Virgins no doubt!

By the time we arrived, the Plump DJ was finishing off. The civic has always been one of my favorite venues and proved to be the 2nd best gig from the last tour. The place was packed on the main floor and even the balconies were rammed with fans. Again ... I don't want to mention the set but there were noticeable differences tonight - a lot tighter as well. Paul has always said that they slowly get used to the set and try out different variations - the result is definitely noticeable.

The crowd I was with starting off at the very back of the hall and it was very warm back there. By the time the encore was starting off we had slowly moved to five from the front. The crowd were fantastic and were well into the gig. A mass of sweating bodies, arms extended towards the boyz and playing out every note. The end result was a very satisfied crowd and in my case , a lot of new Orbital fans who had just realized what it was all about....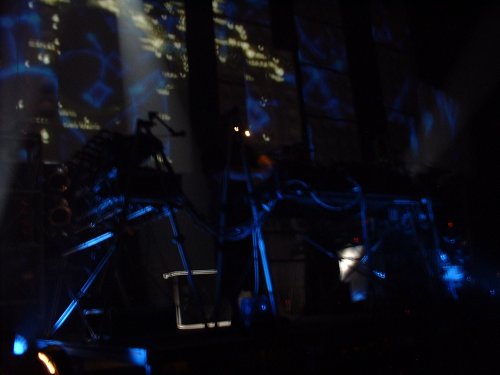 Orbital - Wolverhamption Civic Centre - May 6th 2001 - Pic by Loopz

More Pictures from the night can be seen by visiting the TOURS page for Wolverhampton

Miles : 24
Stereo : Radio 1 - Various
---


Liverpool - 7th May 2001 - 101 Miles and i was finally in Liverpool. I spent the first 30 minutes of my stay looking for the venue - i failed miserably so i decided to go to the meetup place. A small collection of people turned up - most were familiar faces including Wendy, Tez and Matt who have been to every gig on this tour so far.

The venue itself was erm...not the nicest of venues in my opinion. The bar was on the right hand at the front so congestion nightmare again. It reminded me of the old Birmingham Hummingbird (or Academy as its known as now) in the way your feet just stuck to the floor regardless of where you was in the hall. It was a bit of a comedown after the size of Wolverhampton Civic as well...

Paul and Phil were again in good moods with no apparent nerves. I guess...playing for an audiance of just under 1800 is like a walk in the park nowadays. Paul did mention how close the fans are to the stage at this venue and how he was sure he will be able to see the whites of their eyeballs.

The crowd was a mixed bag...there was the usual up-for-it punters at the front who appeared to be having a hell of a time dancing their asses off. There was quite a few people who preferred to stand and take the vibe in. They were all smiling so thats all that matters.

Orbital again played a blinding set - some very obvious highlights which are proving very hard to keep under wraps on here. One thing i have noticed about this set is that its a lot more up beat than previous sets - there is a lot less time to breath and there are no obvious toilet tracks. Toilet tracks is what i would class as tracks that would choose not to listen to instead you would go to the toilet or get a beer. Lets hope most out there have a two hour bladder!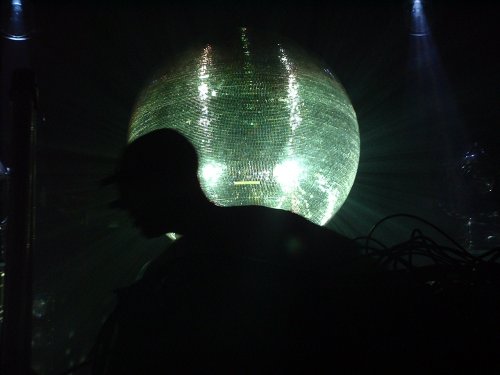 Orbital - Liverpool Mountford Hall - May 7th 2001 - Pic by Loopz
More Pictures from the night can be seen by visiting the TOURS page for Liverpool

Miles : 202
Stereo : Plaid - Double Figure . OpenMinded 2 Dj Sets - Bobby Bird / Gray and Loopz
---
Derby - 8th May 2001 - 35 Miles - a short journey and the last time I will drive to any of the 2001 Altogether gigs. Im late as usual and I finally get into Derby at 7pm.

Ive never been to the Derby Assembly Halls so I wasn't sure what to expect. Paul is hanging about on the balcony overlooking the front entrance - he thinks the venue is a smaller version of the Wolverhampton Civic so that cant be bad.

The floor is packed out with only the balconies looking slightly bare. There is a passage way around the whole of the hall containing bars - at last another great setup with little congestion. The ushers (if we can call them that) are the oldest ive seen, I hope they have been pre-warned about the sound levels!

Its the smallest crowd tonight but they ensure that they dont sound like the smallest crowd. Plump DJ gets a good send off and then Orbital appear with some new music which at time of writing im not too sure where its from (but I will find out!). Tension kicks out and the floor slowly starts to rock.

Ive not really talked about the visual or light side of things. This tour the rotating screens have been replaced by two massive screens on the left and right of the stage with an additional screen that is directly behind the boyz. This screens can be retracted upwards to reveal a massive and I DO mean massive glitterball. If you dont know what im getting at then just take a look at the Liverpool photos. There are also small rotating sections dotted about on stage that reminded a few of us of the inside of a tardis. The lights have been greatly improved - its no good me describing them...you just have to see how they look and how they are operated by Johnny to see what I mean.

Anyway...back to the gig. I keep saying how hard it is to not talk about the set so ive decided just to grab one track every diary update. I will try and leave the special surprises from the diary as long as possible. Funny Break is played out but not the original version...its the Weekend Ravers Mix. I know a lot of people (including myself) wasn't too keen on this tranced out version but in the live environment , this actually does work really well. It may be because of the super sound system or it could be the way the 303 is abused by Phil - I just dont know...it works well and the crowd have always responded that they like it.

As usual the whole climax of the gig just brings out the best in the crowd - they were jumping around, smiling their asses off at each other and molding into one big sweat bucket! top night and a top crowd.

I did notice a professional video camera at the gig but im not too sure who was filming and for what purpose.

Day off tomorrow...then I catch my train to Edinburgh to join the tour bus!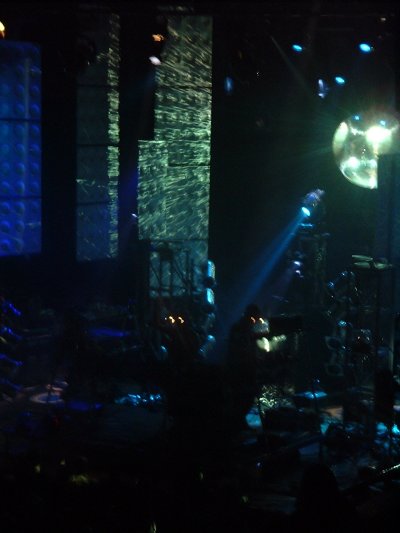 Orbital - Derby Assembly Halls - May 8th 2001 - Pic by Loopz
More Pictures from the night can be seen by visiting the TOURS page for Derby

Miles : 70
Stereo : LFO - Frequencies . Boards of Canada - Music has the Right to Children

---
Edinburgh - 10th May 2001 - A long long long long Train Journey - arrive at 7.30pm after a delayed Virgin Trains journey (suprise suprise i hear you say). Sorry about the meetup folks!

This is the first time in Scotland and i was pre-warned that the crowds are a lot more "up for it" than the English. I was certainly looking forward to seeing if they live up to their reputation. I tried in vein to update the website but had serious phone line trouble hence why the updates have only just happened (complete lie...i was too busy partying!). The venue situated next to an old slaughter house, looked like a perfect place to host a gig like this. There was strict searching taking place at the entrance but the staff were very friendly with it - good to see.

The place was rammed as well - not too sure if it was a sell out though. The Plump Dj are not touring the Scottish leg of the tour - instead we had the Babylon Djs who took the crowd on a different venture. They wasnt as animatic as the Plump Dj but the crowd seemed to enjoy the set. Orbital came onstage to a massive response - i thought that the rumours may be true !

I was always suprised that they started with Tension but after experiencing so many gigs i understand why now. Its just a perfect warmer for the crowd. I saw somewhere that it was over 180bpm, i still havent got around to checking if that is true but it has to be close thinking about it. The beauty of the live version is that they break down the mental busyness of the track into a quite pulseing synth before bringing back the onslaughter.

The crowd just went from strength to strength after that. Ive never seen a crowd react like they did and i dont think ive touched base with as many fans. Even when i was doing the usual pit photos, they grabbed your arms and back making sure you didnt fall off the barrier step. A very cool night with a great bunch of people who did live up to their reputation!

Tonight was the first night i was on the tour bus. Everyone was knackered after tonights proceedings and by 3.30am everyone was in their beds.

Tomorrow Glasgow...again they say that this IS the crowd - Edinburgh were just a warm up!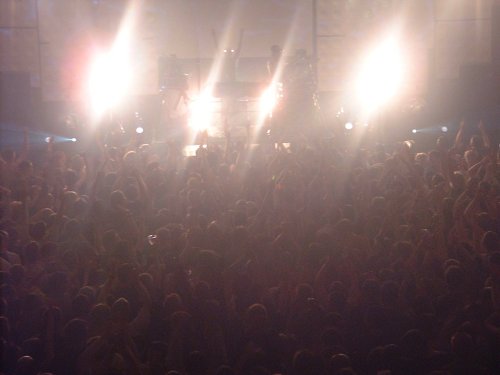 Orbital - Edinburgh Corn Exchange - May 10th 2001 - Pic by Loopz
More Pictures from the night can be seen by visiting the TOURS page for Edinburgh

Miles : Ermmmmm


---
Glasgow - 11th May 2001 - A short journey to Glasgow and we arrive outside the Barrowlands. I was quite surprised how comfortable it was to sleep on the tour bus. The whole rocking motion and rumble of the coach of the engine seemed to rock me to sleep. In fact, I only woke up when the coach pulled up in Glasgow.

I finally got out of the tour bus bed at around 11am and already the stage was being set up for the nights show. Its quite hard to believe how much work goes into making a two hour set of electronic music, look and sound fantastic.

Giles Thacker was setting up his triple DVD players to perform the visuals for the set. Its a skill in itself just to mix it all in real time but Giles just put it in another context when he explained that he has to be some 30 seconds ahead of some parts of the set in order for certain sequences to work. Hopefully we will be sorting some kind of interview with Giles as he had some interesting contributions to the new DVD.

It was a boiling hot day and I decided to be organized for once - I took a walk into town to find out where the meetup was and then lazed about for the rest of the day - its a hard life (yes...i know I should have been working on the website!).

The meetup went fine - everyone I met was cool and im still waiting to meet the bad Orbital fan (do they exist???). Sometimes you can feel a bit paranoid being English in Scotland because you think that ALL Scottish people dislike the English. All the fans at the meetup totally blew that idea out of my head - its one of those moments that I wish I had been on time for the meetup as it was all over too quick and there was still plenty of chat in us all.

The venue was great - a really low ceiling as you will probably be able to see in the photos. The crowd slowly filtered in and even during the DJ set you could see that they were a lot more lively than most of the places we had been to before.

Orbital came on to a wicked response - the whole place was jumping as soon as they heard the first beats of Tension and by the time the stuttering analogue bleeps of The Girl With The Sun In Her Head started the whole place was a sea of arms. Amazing crowd, absolutely amazing.

It was certainly a special night tonight. I had met a lot of brilliant people, witnessed the best crowd of the tour so far and heard another fantastic set from the boyz. I drank like a fish but didn't feel drunk at all...just hot, sweaty and very satisfied!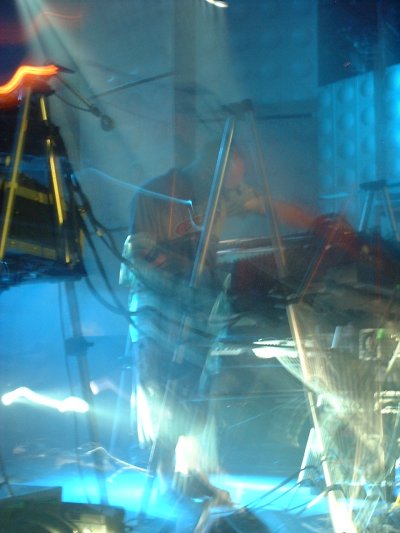 Orbital - Glasgow Barrowlands - May 11th 2001 - Pic by Loopz
More Pictures from the night can be seen by visiting the TOURS page for Glasgow

Miles : Loopz shrugs shoulders

---
Manchester - 12th May 2001 - "Oh manchester so much to answer for..". There is something about Manchester that makes me feel good. Everytime I visit the city for a gig, I always enjoy myself. I have seen Orbital play the Apollo a couple of years ago and its one of the best venues on the tour.

Everyone wakes up sweating....its another warm day and the tour bus is like a greenhouse! Im not too sure what is wrong with me but I have a serious memory lapse. I spend the first few minutes of a telephone conversation thinking who on earth is this, then it hits me that I dont even know what day it is!

The stage is set up and out come the football shirts. Its the F.A.Cup final day and its a good excuse to wear my lovely Aston Villa shirt (much to the amusement of most people!). The sound check starts and the first priority was to get the football match on the big screen behind Paul and Phil.

The venue has two floors with a massive high ceiling. Its an amazing place to see any band/group. The doors open and the near sell-out crowd make their way in waiting for the Plump DJs. The problem is that the Plump DJs are stuck on a train coming into Manchester. Luckily Bobby Langley steps to fill in and plays a blinder of a set. The amusing reverse djing...ie: arse to the audience is a nice change and he even had time to sit down to appreciate the music he was playing. Very funny.

Orbital come on stage to a massive response , the place is heaving and its definitely one of the hottest nights so far. All the bars are closed expect one in the main hall for licensing reasons - its a bit of a strange thing to do as their is a massive spacious bar upstairs. It gets even stranger...only within the set. "Dr Who" appeared to be overtaken by some strange Gremlins but it all sounded just as interesting to me!

"Illuminate" is a track that has always received mixed responses from the new and the hardcore Orbital fans. I personally love the original but the live reworking really takes this track on a throbbing beat driven tangent. The Dave Gray vocals are morphed into a vocodered state - it has sounded brilliant every night and that includes tonight.

Everyone is slowly moved out of the Arena by Security who have played it hard all night - I know its a slightly rough area of Manchester, that they are only doing their job and yes...we all moaned about the drinking situation but please dont be so bloody rude. Nuff said :)

Tomorrow is a day off and I leave the tour bus to go back to Brum as I have many things I need to do before I return to work. I will travel to Bristol and Newcastle and then return to the tour bus in Cambridge.

Ahhh....my bed!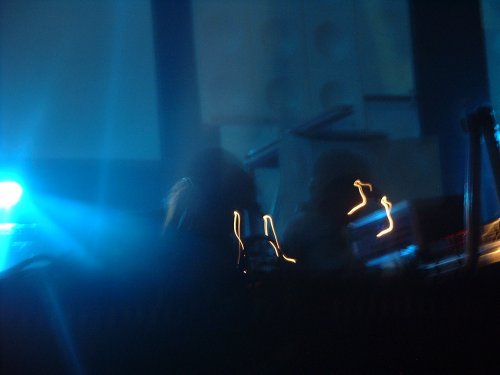 Orbital - Manchester Apollo - May 12th 2001 - Pic by Loopz
More Pictures from the night can be seen by visiting the TOURS page for Manchester

Miles : Loopz shrugs shoulders

---
Bristol - 13th May 2001 - A short drive down to Bristol and I am relieved that the front seats have been taken out of the Colston Hall. The last time they played there two years ago, the place was all seated and that was no fun for anyone.

Backstage there was the usual good atmosphere. Paul was busy trying out a couple of edits for the next potential single (dont ask me what it is - its not decided!). Pete Tong was about as well to see how the tour was going and to hear the new set in action.

It was definitely more packed this time with the upper balcony full of smiling beaming faces. The stewards / security were cool , they were all quite old but smiled all the time as their eardrums exploded from the sounds of Orbital. The hall is quite small compared to most venues and maybe thats why it sounded very loud tonight.

I felt sorry for the people in the seats who probably wanted to mosh in with the sea of people in the front. There was a great response to all the tracks and the place erupted when the beats of "Impact" kicked in after the desperate plea for an encore. I remember the talk of dropping a favorite track in order to get other material in the set and I am so glad that they never took this gem away. After the successful reverse of part 1 and 2 on the last set , they decided to revert it back to its original format. It plays well either way but the slightly revamped version builds into a beautiful landscape of synth.

Another successful night - a short drive home and bed early for once!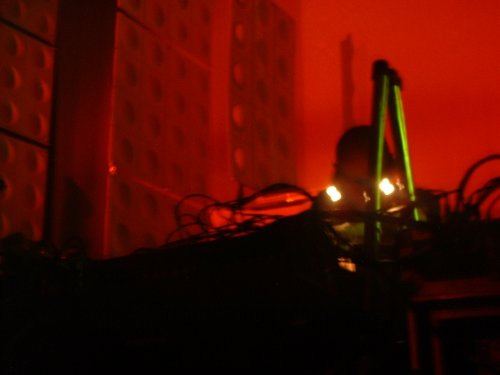 Orbital - Bristol Colston Hall - May 14th 2001 - Pic by Loopz
More Pictures from the night can be seen by visiting the TOURS page for Bristol

Miles : 91 Miles

---
Newcastle - 14th May 2001 - I dont know why...but i wasnt looking forward to going to this one. I think the thought of sitting on a train all the way from Birmingham to Newcastle didnt help - i was supposed to be on the tour bus but home life / business was stopping me doing that. I had a list of things i needed to do and being away from home was not helping. Whatever happens - It was going to be an interesting night for sure.

After many hours traveling and another hour trying to find somewhere to stop, i finally headed into the venue. First impressions - its dark! Very dark...but i had no problem with that at all - the darker the better. The long hall had another low ceilings and a very comfortable relaxed atmosphere (a typical University feel!). Tonight wasnt a total sellout but it was still packed.

The DJ decks were handed back to the Babylon DJ who warmed the crowd up. Orbital came onstage to a loud response and started their set off. Paul set off the "Tension" break down and it did appear to stop for a few seconds but im sure that was all done on purpose (that will £10 Paul!). The crowd slowly picked themselves up and by the midpoint they were at a frenzy. The whole place became a sweat bucket - ive never sweated that much at an Orbital gig in ages.

There is definitely one track that is sounding more and more vibrant each time i hear it. I dont want to actually name the track in the hope that the surprise element will be there. I just love seeing everyone's face when after two or three minutes they finally click on to what they are hearing. It always results in a cheer with a wave of pointing hands. Pure class as most will already know and some will find out.

Orbital completed their set and i was totally drenched. The crowd were brilliant and their was something special about the night - i guess i wasnt expecting a good night which is stupid i know. It was one of the best gigs of the tour - "totally" !

With two gigs left i suddenly realize that time does fly when you are having fun. I went back to my Fawlty Towers Hotel - hardly slept! Got word that International DJ Magazine reviewed the website, a great review as well and then i departed back to Birmingham. I will join the tour bus in Cambridge for the final two dates. Im shattered!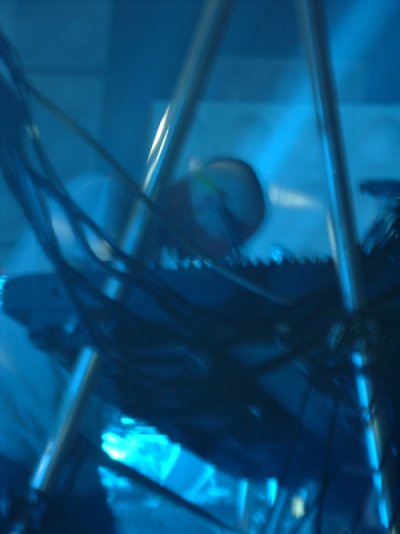 Orbital - Newcastle Northumbria University - May 15th 2001 - Pic by Loopz
More Pictures from the night can be seen by visiting the TOURS page for Newcastle

Miles : lots

---
Cambridge - 17th May 2001 - Got up early and jumped on the train to Cambridge. I am making a big effort to get there as soon as possible. I stopped over last time but didn't get to see the place as much as I wanted to. Its one of those places where you can walk and walk without getting bored of the scenery. Its also an incentive to get an interview done despite the fact that I left my MD at home and all the questions I was going to ask! My memory has got worse since I started following them around on tour!

Im meeting up with some familiar faces tonight and I think they deserve a mention. Wend, Tez and Matt will be attending their 30th Orbital gig tomorrow. They are on the guestlist and I think everyone would agree, they deserve it (the nutters!). Sid (Mr Shrineboy to the forum readers) is also coming along again - if you see a tall man in an Otford Orbital Football shirt then that will be Sid. It just shows how many devoted fans Orbital have and it also proves that Orbital are still doing it right even after all these years.

The venue is quite different from the others that Orbital have played on this tour. There are three small side balconies , although only two can be occupied and there is a guest balcony at the back which has a ridiculous small roof so that you have to sit down to see anything. The hall is quite small as well. I remember two years ago thinking how packed the place gets - it really is difficult to get away without saying "excuse me" thousands of times (slight exaggeration of course). Still...despite the different setup its a great place to see a live gig.

The interview I was going to conduct went a bit "Pete Tong" (to coin a phrase). Its all about timings, so we had to postpone it and I am hoping that maybe I can get a few questions in tomorrow but Brixton is always hectic.

The plump DJs - yes I was told by someone who got their earlier that there was two of them this time - did their thing and from what I heard , they did the crowd proud. I like the idea that Orbital have a good DJ support but I kinda miss seeing another live group/band. I think maybe I was spoiled when I experienced Plaid supporting them in 1999. Plaid are now one of my favorite groups and to have them on the same bill was amazing.

Orbital came on to a massive roar. The sound was loud again but appeared to be even louder tonight. Maybe the small hall contributed to this. There was some definite subtle differences tonight which is always a pleasure to hear especially as I had heard this set louds of times. A lot of people always ask whether I get bored with hearing the tunes live day after day - no way - this is one of the beauties of Orbital.

Everything was tight again - "Tootled" was magnificent. Its definitely maturing on the live arena with the one second pauses between the samples. The whole crowd danced in a stutter as if they are programmed by the track or maybe they cant dance just like me :) Another good crowd which looked a bit dreamy sometimes but they were happy thats all that matters.

So there is only one night left and it looked like we wasn't even going to get there. Someone had blocked the coach in and the driver was no where to be seen. It had gone 1am so the car was bounced out of the way with the help of the local Nightclub crew. Then a slightly peed up young lady (carefully chosen words folks!) decided to dramatically fall every two minutes in the road. After these obstacles we was on our way...and at 02.38 I have just completed this part of the Tour Diary - thats dedication folks or maybe I just want to enjoy Brixton and not worry about doing the Net thing tomorrow. The big one tomorrow - Rock and Roll!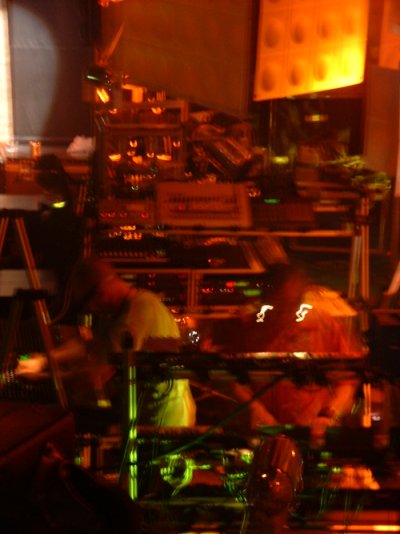 Orbital - Cambridge Corn Exchange - May 17th 2001 - Pic by Loopz
More Pictures from the night can be seen by visiting the TOURS page for Cambridge

Miles : a few

---
Brixton - 18th May 2001 - 1030hrs and the majority of the crew and band are out of their pits. Paul and Phil have got a big day ahead of them with loads of interviews to complete and then of course - they perform to their home crowd. I think it was around 0430hrs when the last few went to bed. Mickey Mann was there to the end - he was one amazing person and one of the biggest gents you will might ever meet in the world of Techno!

The production office is manic - the phone isnt stopping. The whole world has gone guest-list mad. Andy, the tour manager is slightly stressed and i dont blame him. I decide to upload the cambridge photos and get out of their way. Its a nice hotel stopover tonight so i head over to get everyone checked in as no one else will have time to go to the Hotel until the early hours of the morning.

The meetup was planned for around 1830hrs but i decide (for once) to be early. We are expecting a good turnout and we wasnt wrong (for once...lol). Big thanx to all that turned out - it was great to put faces to pixels and confirm once more that there are no idiotic Orbital fans. We even had the pleasure of a certain duos Mom and Dad and Naomi Bedford :)

Time flew in the pub meetup and we all headed to the gig at around 2130hrs. Lol Hammond of The Drum Club was djing and he played some cool tunes. I remember seeing him at The Mass club in Brixton a few times the year before - great stuff.

I went backstage and it was rammed with guests and family. Paul and Phil looked fine but Paul admitted that he was slightly nervous about this one. The thought of his friends and family standing watching him perform was a bit much for him. Lol came offstage and exchanged some old friendly banter with Paul and Phil. The crowd anticipation grew when finally Orbital took to the stage. The place erupted!

It was amazing to hear such a response and it confirmed that Orbital were now back at home. "Tension" ripped the crowd apart as the hall became a mass of moving bodies. It was absolutely rammed out there. I tried to squeeze into the centre but managed only to make a third in, even then...i was forced to move with the surrounding people as one big blob! To say the set was fantastic is an understatement - the big surprise "Belfast" just oozed as the rampant bass line teased the unsure crowd. It was time to throw in those chords...yes...the chords transferred the hall into a wave of smiles. Transfixed that they were witnessing one of the greatest Orbital sets for a long time!

By the time the encore of Impact (dont you dare drop it! :) ), Dr Who and Chime - i was sweating , hot and in the need for drink. Orbital left the stage and they left a lot of people happy! I met up with quite a few of the people from the pub meetup - a couple of blags later and they were drinking in the so-called VIP bar.

Slowly the night faded away - with my memory and my sensible attitude to life. No one can describe, especially me, what i fully witnessed in those 2 weeks. The people i met, the different lifestyles, the music, the activities that go on before, during and after the gig. I couldn't believe how many people are involved getting this kind of tour on the road and how much hard work and preparation goes into it. The end result will always remain Truly Amazing.

Personal Favorite Gigs : Wolverhampton, Brixton and Glasgow

Orbital - London Brixton Academy - May 18th 2001 - Pic by Loopz




Use the navigation menu above to select the year of your choice
or use the navigation menu on the left to select the gig of your choice.

If there are any spelling mistakes or any other problems then please inform me via email.
No data on/from this page can be used without written permission