TOURS - 3rd October - La Zona in Austin- USA
Capacity - 1200
Ticket Contribution - Ilya Y. Rostovtsev
Review - Sarah Bagwell
Set List - Loopz
Set List - Tension, The Girl With The Sun In Her Head, Last Thing, Funny Break (Weekend Ravers Mix), Belfast, Oi, Illuminate, Satan, Tootled, Impact, Dr Who, Chime
Review #1 - Sarah Bagwell

The show in Austin was fantastic! Phil grabbed my pink cowboy hat and wore it for about 5 minutes! The crowd loved that- how sweet of him to be a Texas boy for a moment! Satan kicked so much ass, and Tootled was over the top- lots of Tool fans in Austin.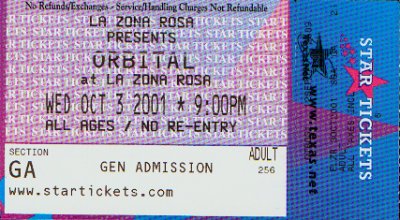 If you can help contribute to any of these sections then please use this email address.

Use the navigation menu above to select the year of your choice
or use the navigation menu on the left to select the gig of your choice.

If there are any spelling mistakes or any other problems then please inform me via email.
No data on/from this page can be used without written permission