1999 Tour Diary

31st Dec - Cream Liverpool, England

16th Oct - Brazil

15th Oct - Brazil

25th Sep - Homelands Ireland

28th Aug - Pukkelpop
Belgium

27th Aug - Lowlands
Holland

22nd Aug - V99
Chelmsford, England

21st Aug - V99
Stafford

13th Aug - Flux Festival Edinburgh, Scotland

10th Aug - Total Eclipse
Festival - Plymouth, England

24th Jul - Long Beach Con
Center - California , USA

23rd Jul - Bill Graham Civic Aud - San Francisco , USA

22nd Jul - House of Blues, Las Vegas, USA

21st Jul - Del Mar Fairgrounds - Del Mar , San Diego, USA

20th Jul - Club Rio, Tempe, Phoenix , USA

18th Jul - Brady Theatre, Tulsa, USA

17th Jul - Bronco Bowl, Dallas, USA

16th Jul - Austin Music Hall, Austin , USA

15th Jul - State Palace Theatre , New Orleans , USA

14th Jul - Tabernacle Atlanta , USA

13th Jul - Fairgrounds Jacksonville , USA

11th Jul - Electric Factory, Philadelphia , USA

10th Jul - Palladium Worcester , USA

09th Jul - Hammerstein Ballroom, New York , USA

08th Jul - Crane, Pittsburgh , USA

07th Jul - Nautica Stage Cleveland , USA

06th Jul - State Theatre, Detroit , USA

04th Jul - Congress Theatre , Chicago , USA

02th Jul - Roskilde Denmark

26th Jun - Glastonbury, England

19th Jun - Madrid Stadium, Spain

17th Jun - Sonar 99, Barcelona, Spain

11th Jun - Prague Castle, Prague

29th May - Drum Rhythm Festival , Amsterdam

24th Apr - Peel Session - Queen Elizabeth Hall, London

15th Apr - Amsterdam

14th Apr - Paris , France

03rd Apr - Espárrago, Spain

31st Mar - Dublin, Ireland

30th Mar - Dublin, Ireland

28th Mar - Brixton Academy , London, UK

27th Mar - Brixton Academy, London, UK

26th Mar - Brighton , UK

24th Mar - Southampton, UK

23rd Mar - Cambridge , UK

22nd Mar - Wolverhampton , UK

21st Mar - Glasgow , UK

20th Mar - Manchester , UK

18th Mar - Sheffield , UK

17th Mar - Newcastle , UK

16th Mar - Leeds , UK

15th Mar - Bristol , UK

14th Mar - Exeter , UK

8th Mar - Mass , London (Cancelled)

TOURS - 10th July - Palladium - Worcester - USA
Review Contribution #1 - Robert Schultz
Review Contribution #2 - Gordon Cameron
Ticket Scan - Larry Sargent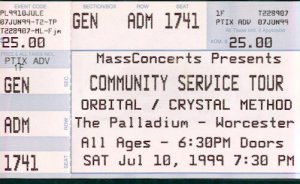 Review #1 - Robert Schultz
I recently attended the Worcester, MA date of the Community Service Tour of the US. Ok, the venue was really very old. It was the Worcester Palladium, an old theatre that really was not designed for this type of show. I sat in the center of the first row of the balcony so that I could get the full effect of the sound and visuals. Ok, when they first came out, Paul and Phil were smiling very very much for some reason. I had seen Paul earlier in the day, and he was beaming then too. They put out a great performance. Phil was really very animated. I'd seen them before at Lollapolooza in Boston, and he didn't move that much then. They played the same songs at the European dates, except they didn't play the F.A. Mix of Open Mind. The sound was great, except for half of Way Out when the bass was just way too much. The visuals were tight, and as good as ever. I really had good seats, so I could see exactly what they both were doing the whole time. They did a lot of scurrying around amongst their gear, and Phil was really very into it. They were so grateful of the crowd. The highpoint for me was Dr Who, because I'd had never heard the song before, but I think the high points for the crowd were Halcyon and Chime. It was a great version of Chime, it was really fast, and long. Halcyon was as good as ever, and continues to be one of my favorite live tracks. The only complaint I have is that they didn't play some of my favorites: Are We Here?(they didn't play anything from Sniv), Out There Somewhere?(only The Box was played from In Sides!), and The Girl With The Sun In Her Head. I knew what they were going to perform anyway though, because of the xmission list people. Ok, thanks for the opportunity to speak! I can't wait to see them at some Spanish festivals in a couple years!

Review #2 - Gordon Cameron
Just thought I'd let you know - traveled down from Montreal with my brother (who was over from Scotland) to see the Community Service Tour held in Worcester (an hour outside of Boston). In a word - absolutely awesome ! The venue was a fantastic size, completely packed with a brilliant and eclectic crowd.

I was so surprised that Orbital were headlining, with CM being the 'home band', but they were and I was delighted. They played for a total of about 90 minutes and it was just incredible - awesome, especially the encore where they played Satan and the Dr. Who one ! I've been waiting years to see Orbital live, and they lived up to expectations and much more. Brilliant show. The only thing I would say is they end on a slightly downbeat note before encore - it would be horrible if they didn't get cheered back on as, as I mentioned, the last slot was absolutely stunning - musically and visually. This has to be the best concert I've attended, period. Can't wait to see them again...
If you can help contribute to any of these sections then please use this email address.

Use the navigation menu above to select the year of your choice or use the navigation menu on the left to select the gig of your choice..

If there are any spelling mistakes or any other problems then please inform me via email.