1999 Tour Diary

31st Dec - Cream Liverpool, England

16th Oct - Brazil

15th Oct - Brazil

25th Sep - Homelands Ireland

28th Aug - Pukkelpop
Belgium

27th Aug - Lowlands
Holland

22nd Aug - V99
Chelmsford, England

21st Aug - V99
Stafford

13th Aug - Flux Festival Edinburgh, Scotland

10th Aug - Total Eclipse
Festival - Plymouth, England

24th Jul - Long Beach Con
Center - California , USA

23rd Jul - Bill Graham Civic Aud - San Francisco , USA

22nd Jul - House of Blues, Las Vegas, USA

21st Jul - Del Mar Fairgrounds - Del Mar , San Diego, USA

20th Jul - Club Rio, Tempe, Phoenix , USA

18th Jul - Brady Theatre, Tulsa, USA

17th Jul - Bronco Bowl, Dallas, USA

16th Jul - Austin Music Hall, Austin , USA

15th Jul - State Palace Theatre , New Orleans , USA

14th Jul - Tabernacle Atlanta , USA

13th Jul - Fairgrounds Jacksonville , USA

11th Jul - Electric Factory, Philadelphia , USA

10th Jul - Palladium Worcester , USA

09th Jul - Hammerstein Ballroom, New York , USA

08th Jul - Crane, Pittsburgh , USA

07th Jul - Nautica Stage Cleveland , USA

06th Jul - State Theatre, Detroit , USA

04th Jul - Congress Theatre , Chicago , USA

02th Jul - Roskilde Denmark

26th Jun - Glastonbury, England

19th Jun - Madrid Stadium, Spain

17th Jun - Sonar 99, Barcelona, Spain

11th Jun - Prague Castle, Prague

29th May - Drum Rhythm Festival , Amsterdam

24th Apr - Peel Session - Queen Elizabeth Hall, London

15th Apr - Amsterdam

14th Apr - Paris , France

03rd Apr - Espárrago, Spain

31st Mar - Dublin, Ireland

30th Mar - Dublin, Ireland

28th Mar - Brixton Academy , London, UK

27th Mar - Brixton Academy, London, UK

26th Mar - Brighton , UK

24th Mar - Southampton, UK

23rd Mar - Cambridge , UK

22nd Mar - Wolverhampton , UK

21st Mar - Glasgow , UK

20th Mar - Manchester , UK

18th Mar - Sheffield , UK

17th Mar - Newcastle , UK

16th Mar - Leeds , UK

15th Mar - Bristol , UK

14th Mar - Exeter , UK

8th Mar - Mass , London (Cancelled)

TOURS - 14th March - Exeter University - Exeter - England - UK
Photo Contribution #1 - Loopz
Photo Contribution #2 - The Squirrel
Review Contribution #1 - Ash
Review Contribution #2 - Toby Matthews
Set List - Loopz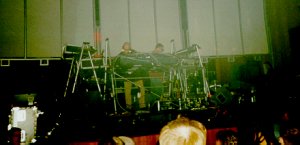 #2
Set List - (intro - Clockwork Orange), Way Out, Spare Parts Express, Impact (The Earth is Burning), Know Where to Run, An Fhomhair, Halcyon ,I Dont Know You People, The Box, Nothing Left (Parts 1 and 2), Style, Bigpipe Style, Satan and Open Mind (F.A.Mix).

Review #1 - Ash
Just saw em at exeter they were fucking amazing

Review #2 - Toby Matthews
I just saw your web site and I thought I'd let you know that the Exeter gig on Sunday was an absolute cracker! They played an excellent set with stuff off most of the albums (can't remember if there was anything off Snivilisation?), including a fair bit off the new one (I guess, 'cos I didn't recognise everything!). The encore was a brilliant Satan (let's see those devil signs!). The hall there is medium sized and was comfortably full, enough elbow room for a bit of a groove!
All in all an absolute stormer of a show - I'd forgotten just how good they were live!
PS Tell 'em to turn it down though, my ears are still ringing!
If you can help contribute to any of these sections then please use this email address.

Use the navigation menu above to select the year of your choice or use the navigation menu on the left to select the gig of your choice..

If there are any spelling mistakes or any other problems then please inform me via email.