1999 Tour Diary

31st Dec - Cream Liverpool, England

16th Oct - Brazil

15th Oct - Brazil

25th Sep - Homelands Ireland

28th Aug - Pukkelpop
Belgium

27th Aug - Lowlands
Holland

22nd Aug - V99
Chelmsford, England

21st Aug - V99
Stafford

13th Aug - Flux Festival Edinburgh, Scotland

10th Aug - Total Eclipse
Festival - Plymouth, England

24th Jul - Long Beach Con
Center - California , USA

23rd Jul - Bill Graham Civic Aud - San Francisco , USA

22nd Jul - House of Blues, Las Vegas, USA

21st Jul - Del Mar Fairgrounds - Del Mar , San Diego, USA

20th Jul - Club Rio, Tempe, Phoenix , USA

18th Jul - Brady Theatre, Tulsa, USA

17th Jul - Bronco Bowl, Dallas, USA

16th Jul - Austin Music Hall, Austin , USA

15th Jul - State Palace Theatre , New Orleans , USA

14th Jul - Tabernacle Atlanta , USA

13th Jul - Fairgrounds Jacksonville , USA

11th Jul - Electric Factory, Philadelphia , USA

10th Jul - Palladium Worcester , USA

09th Jul - Hammerstein Ballroom, New York , USA

08th Jul - Crane, Pittsburgh , USA

07th Jul - Nautica Stage Cleveland , USA

06th Jul - State Theatre, Detroit , USA

04th Jul - Congress Theatre , Chicago , USA

02th Jul - Roskilde Denmark

26th Jun - Glastonbury, England

19th Jun - Madrid Stadium, Spain

17th Jun - Sonar 99, Barcelona, Spain

11th Jun - Prague Castle, Prague

29th May - Drum Rhythm Festival , Amsterdam

24th Apr - Peel Session - Queen Elizabeth Hall, London

15th Apr - Amsterdam

14th Apr - Paris , France

03rd Apr - Espárrago, Spain

31st Mar - Dublin, Ireland

30th Mar - Dublin, Ireland

28th Mar - Brixton Academy , London, UK

27th Mar - Brixton Academy, London, UK

26th Mar - Brighton , UK

24th Mar - Southampton, UK

23rd Mar - Cambridge , UK

22nd Mar - Wolverhampton , UK

21st Mar - Glasgow , UK

20th Mar - Manchester , UK

18th Mar - Sheffield , UK

17th Mar - Newcastle , UK

16th Mar - Leeds , UK

15th Mar - Bristol , UK

14th Mar - Exeter , UK

8th Mar - Mass , London (Cancelled)

TOURS - 17th March - University of Northumbria - Newcastle - England - UK
Review Contribution #1 - Big Ned
Review Contribution #2 - Gary Logan
Review Contribution #3 - Mike
Review Contribution #4 - Ben Pollinger
Review Contribution #5 - Jon Green
Review Contribution #6 - Jon Allen
Set List - Loopz
Ticket Contribution - Greg Nugent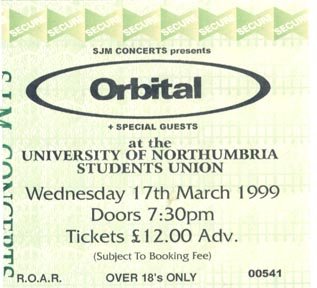 Set List - (intro - Clockwork Orange), Way Out, Spare Parts Express, Impact (The Earth is Burning), Know Where to Run, An Fhomhair, Halcyon (with Belinda Carlisle and Bon Jovi samples) ,I Dont Know You People, The Box, Nothing Left (Parts 1 and 2), Style, Bigpipe Style, Satan, Open Mind (F.A.Mix), Doctor Who and Chime.

Review #1 - Big Ned
I Saw Orbital at Northumbria Uni on St Patrick`s Day, March 15th (17th - must have been a good night :) - Loopz) , and it was FUCKIN KILLER!!! I nearly died laughing when they played Bon Jovi. Mind you, I was off my face at the time!

Review #2 - Gary Logan
We saw orbital live in necastle poly on wednesday the 16th of march (ahem 17th - it MUST have been a good night - Loopz) One word sums up the night Blinding :) from the start the beats were slamming all the way through the night you kept us all rocking the docter who tune will be massive the whole crowd loved the baseline !!! and who the fuck would have thought bon jovi and belinda carlise would ever sound so fucking awsome we travelled over from carlisle battled through fog downed enuff druggs to get an army marching and all i can say is hurry up and tour again its been way to long . p.s. its nice to here chime still kiks major ass and one last thing next time give Belfast a wurl it would have gone down a fuking storm. Yours carlisle Massive Gary,Gregg,Adam :-)

Review #3 - Mike
What can I say about last night's gig except AWESUME. It's the 3rd time I've seen Orbital and they are definitely the most consistently excellent band/act/whatever I know. Highlights? "Living On A Prayer" in "Halcyon", "Satan" (with creepy 1999=666! bit on the screen), and "Dr Who". It was the first time I'd heard any of the new stuff (except the Style singles) and, well, roll on April! Hope the rest of the tour goes well.

Review #4 - Ben Pollinger
A cracking night last night, and amazing atmosphere, which pissed on Underworld who were there 2 weeks ago (sound quality did too). they packed it in at 11 pm tho! The fools. The new stuff sounds class, can't wait for the album. Cheers for the website stuff anyway (esp the Style video), keep it up. Look forward to the live stuff on the site (hopefully!)

Review #5 - Jon Green
I went to the Northumbria Uni gig last night...and it was astounding. I had some doubts before I went - whether they would sound a bit twee for my liking - but they blew everyone away! Pumelling breakbeats straight from the off, a bit of electro mixed in and a few cheeky samples (you know the ones I mean!) They were on for two hours, but I could honestly have danced for another five, no problem... Played loads of new stuff and just enough of the old stuff too - I cannot wait for the new album now! Won't spoil the track listing (didn't know half of them anyway!) except to say that the encore was better than I could have hoped for. That 'secret track' brought smiles to everyone's faces - genius! Can't believe the night finished at 11pm though - well disappointing. The crowd were still cheering five minutes after they'd finished! I just wish I'd had the courage to go and speak to the lads afterwards... Was that you in the purple shirt, Steve?(ermmm Nope - I never made this gig :( - Loopz)

Review #6 - Jon Allen
Missed Plaid cos the doors opened earlier than advertised - that'll teach me for not turning up early! Fantastic show by the boys though (I can't wait for the album) and encore of Satan, Halcyon and Chime - what more could you want!?
If you can help contribute to any of these sections then please use this email address.

Use the navigation menu above to select the year of your choice or use the navigation menu on the left to select the gig of your choice..

If there are any spelling mistakes or any other problems then please inform me via email.