1999 Tour Diary

31st Dec - Cream Liverpool, England

16th Oct - Brazil

15th Oct - Brazil

25th Sep - Homelands Ireland

28th Aug - Pukkelpop
Belgium

27th Aug - Lowlands
Holland

22nd Aug - V99
Chelmsford, England

21st Aug - V99
Stafford

13th Aug - Flux Festival Edinburgh, Scotland

10th Aug - Total Eclipse
Festival - Plymouth, England

24th Jul - Long Beach Con
Center - California , USA

23rd Jul - Bill Graham Civic Aud - San Francisco , USA

22nd Jul - House of Blues, Las Vegas, USA

21st Jul - Del Mar Fairgrounds - Del Mar , San Diego, USA

20th Jul - Club Rio, Tempe, Phoenix , USA

18th Jul - Brady Theatre, Tulsa, USA

17th Jul - Bronco Bowl, Dallas, USA

16th Jul - Austin Music Hall, Austin , USA

15th Jul - State Palace Theatre , New Orleans , USA

14th Jul - Tabernacle Atlanta , USA

13th Jul - Fairgrounds Jacksonville , USA

11th Jul - Electric Factory, Philadelphia , USA

10th Jul - Palladium Worcester , USA

09th Jul - Hammerstein Ballroom, New York , USA

08th Jul - Crane, Pittsburgh , USA

07th Jul - Nautica Stage Cleveland , USA

06th Jul - State Theatre, Detroit , USA

04th Jul - Congress Theatre , Chicago , USA

02th Jul - Roskilde Denmark

26th Jun - Glastonbury, England

19th Jun - Madrid Stadium, Spain

17th Jun - Sonar 99, Barcelona, Spain

11th Jun - Prague Castle, Prague

29th May - Drum Rhythm Festival , Amsterdam

24th Apr - Peel Session - Queen Elizabeth Hall, London

15th Apr - Amsterdam

14th Apr - Paris , France

03rd Apr - Espárrago, Spain

31st Mar - Dublin, Ireland

30th Mar - Dublin, Ireland

28th Mar - Brixton Academy , London, UK

27th Mar - Brixton Academy, London, UK

26th Mar - Brighton , UK

24th Mar - Southampton, UK

23rd Mar - Cambridge , UK

22nd Mar - Wolverhampton , UK

21st Mar - Glasgow , UK

20th Mar - Manchester , UK

18th Mar - Sheffield , UK

17th Mar - Newcastle , UK

16th Mar - Leeds , UK

15th Mar - Bristol , UK

14th Mar - Exeter , UK

8th Mar - Mass , London (Cancelled)

TOURS - 23rd March - Cambridge Corn Exchange - Cambridge - England - UK
Photo Contribution #1 - Loopz
Photo Contribution #2 - Kelly L Anderson
Photo Contribution #3 - Kelly L Anderson
Photo Contribution #4 - Kelly L Anderson
Review Contribution #1 - David Read
Review Contribution #2 - Hadleigh Wilks
Review Contribution #3 - Edward Lui
Review Contribution #4 - Tompy
Review Contribution #5 - David Bennison
Set List - Loopz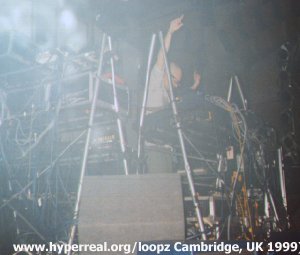 #1

Set List - (intro - Clockwork Orange), Way Out, Spare Parts Express, Impact (The Earth is Burning), Know Where to Run, An Fhomhair, Halcyon (with Belinda Carlisle and Bon Jovi samples) ,I Dont Know You People, The Box, Nothing Left (Parts 1 and 2), Style, Bigpipe Style, Satan, Open Mind (F.A.Mix) (with the new intro - vocoder fallout samples) , Doctor Who and Chime.

Review #1 - David Read
Just quick note to say what a top night I had at the gig last night, I had a great time at Underworld last week but this was heaven, absolute heaven. Ready for the new album now. Many thank, of course for your website..it makes a difference.

Review #2 - Hadleigh Wilks
Having arrived at the Corn Exchang at 8:30, after an 1 1/2 hour's journey, we'd already missed half of Plaid's set - a shame, because the few tracks we did catch were very good - I'm looking forward to their new album. Orbital came on stage to a rapturous applause. Starting a gig off with 15 minutes worth of new material is something most bands wouldn't dare do. But Orbital's music is always really captivating, and from where I was standing at the back, though few people were dancing, everybody was listening intently. The opening tracks were very impressive - I had been anxious that their new material would live up to my expectations, as their older material, right from 'Chime' to 'In Sides', still means a lot to me. The more I heard of the new material, the more it made me look forward to the new album... Plus, there were the old favourites - 'Impact' was impressive, they had almost reversed it from the version they usually play live! 'Halcyon' and 'The Box' were also great, and I must admit I was surprised to hear 'An Fromhair' played (though I'm glad they did). I did wonder, though, why they didn't play anything off 'Snivilisation' - 'Sad But True' would still go down really well played alongside the new material. Oh well. I must admit, standing quite a way back I was a bit frustrated that few people were dancing, so torwards the end I made my way further down the front, where the serious rug-cutting was going on. 'Satan' got probably the best response of the night, everyone going fairly mental. And what can I say about the final encore? The decision to resurrect the 'Doctor Who' theme was a great idea, turning it in to a stomping breakbeat techno track. And I was really surprised to hear 'Chime' at the end - but really pleased too. That was the third time I've seen Orbital since 1994. I don't know if that was the best I've seen them (mind you, that might just be because of the lack of dancing at the back of the hall), but they are always different, and that's great. Given a few more months of touring, I'm sure the new material will become live favourites, as much as 'Impact', 'Satan' and 'Chime'

Review #3 - Edward Lui
I saw Orbital in Cambridge last night and welcome back, the last time I saw them was back in '94/95 at the same venue. The venue was heaving, I'm sure everytime I go there they squeeze more and more people into standing room. The first thing that struck me was the bass, it was absolutly amazing, in all the gigs I've been to I don't think I've ever heard it so 'moving'!! I'll have to apologise in advance, I've never been one for putting a title to a track, But the ones I do recall are Impact, Lush3-1 (I think), Halcyon (with both Bon Jovi & Belinda Carlise samples - the first time I've heard it with both at once, Bagpipe version of Style, Satan (of course), Chime and Doctor Who. The play order was good, bring a good mix of old and new stuff. But a great gig after a long time away. Only problem is why are there only SEATED tickets available at Brixton on Sunday!!!

Review #4 - Tompy
I was at Cambridge last night - what a gig!! Fantastic!! Far more techno-ey than I'd expected (I saw them on the In Sides tour too) and the new material was brilliant!! Now I have to remain patient until the album's released. I saw Underworld a couple of weeks ago and was worried that Orbital might seem a bit tame in comparison but it was the other way around. God some of that sub-bass stuff made your whole body vibrate! I'm interested to see your report of the crowd in comparison to the other gigs because from where I was (about 5ft from the stage) everyone seemed pretty up for it. Plaid were good too (going to Warpmart any minute to buy their cd). Although they could have done with sticking their heads above their gear for a moment or two - just to let us know they were there!

Review #5 - David BennisonOK - got your attention briefly. OK - I'm suffering from everything something can get in Cambridge on a Tuesday night (including a dodgy Kebab)! OK - so I've been on this list for some 5 years now without really raising a squeek (biting my tongue at some of the opinionated shite that comes up on this list once in a while). But surely the reason we're all here is for that/those moments we can both call both our own and thus share with everyone. Alheluhah! (please insert necessary 'H's and 'L's) Let me put it straight....I'm as up my own arse as the rest of you (guys!) are with fucking 8 quid EPs, shit house remixes, 1/20 ratio of good EPs to stuff you wouldn't play again....etc....etc...I've got 75% of my wall full of vinyl I couldn't get 100 quid for from anyone sane. Any takers Roodz :)
Praise Orbital...it's as clear as that!
I didn't want to go out tonight as I'd bought my ticket months before hearing that godawful bagpipe tune!! I've not listened to them in years like the rest of you. I've been locked in some peverse headlock with XTC, Super Furry Animals, Cpt Beefheart and Simon Mayo. It was Orbital v Watchdog and Alice Beer plain and simple. Everyone must have some sentimental reason why they're still here - I'm almost 32 years old (John Peel and Derek are my only seniors god bless them) my dance history stretches as far back as the M25 raves and no earlier (actually I was a big Buttholes/Big Black/Scratch Acid fan before then and the Buttholes briefly took centre stage for Satan). Tonight, god knows why, maybe 3 or 4 double whiskeys, maybe not...Orbital were as good as I've heard them (most moving being Glastonbury 94/5? whatever). They were in Cambridge believe it or not! It finished at 11pm for god sake!
So, I just wanted to sound out FOR the artists that you sometimes forget in the pursuit of the 'unique'. I'm seeing them this Saturday and it may not be 1% of the night I had tonight so I say speak loudly and authoratitively before you go to bed and end up forgetting what was so special the next day!...
If you can help contribute to any of these sections then please use this email address.

Use the navigation menu above to select the year of your choice or use the navigation menu on the left to select the gig of your choice..

If there are any spelling mistakes or any other problems then please inform me via email.