TOURS - 26th October - Q Awards Showcase - Hammersmith Palais - London - England
All Photos - Loopz except
Photo #1 - Ed Lomas
Ticket Contribution - Ian Shillito
Set List - Loopz
Review Contribution #1 - Guardian Newspaper (October 28th 2000) - Thanx YH
Review Contribution #2 - Ross Hardy
Review Contribution #3 - Niall

Set List - (intro - Clockwork Orange), Funny Break (working title) , Spare Parts Express, Impact (The Earth is Burning) Part 2 then Part 1, Know Where To Run, Halcyon (with Belinda Carlisle and Bon Jovi samples), The Box, I Dont Know You People, Tootled (working title), Tension (working title), Satan, Doctor Who and Chime.
Big Thanx to everyone at the 2nd Loopz visitors meetup which took place at LORI ARMS pub in Hammersmith, London. Photo taken in the Hammersmith Palais before the gig - apologies to the other members who were at the meetup but not on the photo.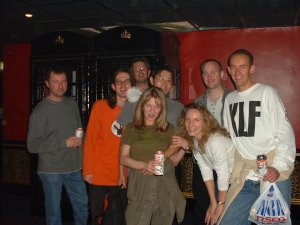 Loopz Visitors Meetup II at London Hammersmith Palais - Pic by Loopz

Review #1 - Guardian Newspaper (October 28th 2000)

When Orbital released Chime in March 1990, the Hartnoll brothers Phil and Paul, created the ultimate, insistent statement in an era of bedroom technology. At that time, the concept of live electronic dance was treated with derision. Through a decade of crossover hits, international tours and festivals, it has become an institution, with Orbital arguably at the helm. This relatively intimate one-off UK show was essentially a reminder of the fact.

Orbital entered to Walter Carlos's synthesised theme to A Clockwork Orange. Behind their databanks, wearing their trademark headlights, the duo still looked otherwordly - although the effect was marred when they cheerfully addressed the crowd in unmistakably human voices: "Thank you! Hellooo!"

Much of the audience appeared to have grown up with the band: twentysomethings and older, dancing fervently, cans of lager or mobile phones in hand.

Listening to Orbital's music while static is almost unbearable: the rhythms urge your limbs into activity, and when they unleashed the early-1990s favourite The Earth is Burning, masses of hands were thrust into the sticky air. Live, each musical component became something to savour: a track stripped down to a yearning vocal sample or tremulous bassline. Surreal visuals and mock-consumer slogans (another Orbital speciality) accentuated the hypnotic effect, as their styles skittered from angular funk to orchestral pomp, with pop references; they mischeviously cross-bred Belinda Carlisle and Bon Jovi, and the hybrid sounded fantastic.

Dance music tends to date easily, but Orbital remain arrestingly fresh, whether it's the bizarrelt beautiful, oscilating melodies of Spare Parts Express (from 1999's The Middle of Nowhere album), or 1996's haunting The Box. At this concert, they also previewed breakbeat-fuelled new material to enthusiastic response (Orbital's sixth album is due early next year). But the classics reigned supreme, with an encore of three certain-crowd-pleasers: the cataclysmic onslaught of Satan, their pumped-up cover of the Doctor Who theme and Chime. The latter, a genuine anthem, swept through the crowd like a wave of elation.

4 stars out of 5 - Written by Arwa Haider.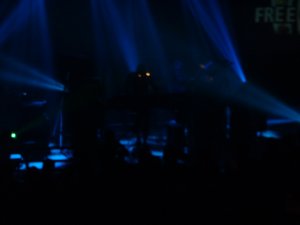 Orbital - Live At Hammersmith Palais, London - Pic by Loopz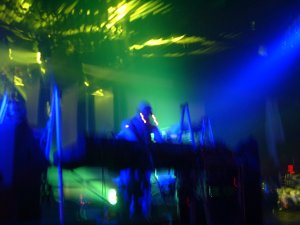 Orbital - Live At Hammersmith Palais, London - Pic by Loopz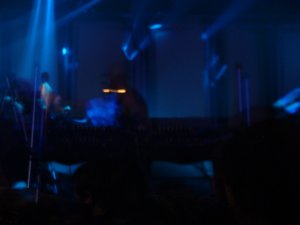 Orbital - Live At Hammersmith Palais, London - Pic by Loopz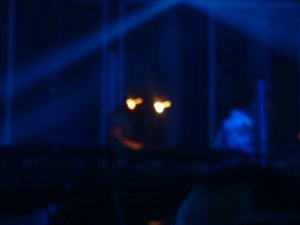 Orbital - Live At Hammersmith Palais, London - Pic by Loopz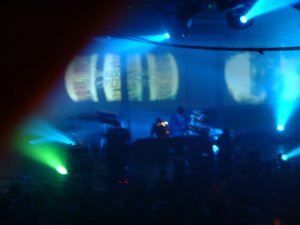 Orbital - Live At Hammersmith Palais, London - Pic by Loopz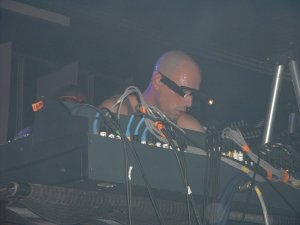 Orbital - Live At Hammersmith Palais, London - Pic by Loopz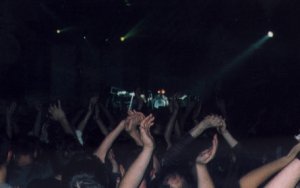 Photo #1 - Orbital - Live At Hammersmith Palais, London - Pic by Ed Lomas
Review #2 - Ross Hardy

What I feel is perhaps the best gig of all time is seeing Jean Michel Jarre at Wembley Arena on my 18th Birthday way back on the June 8th 1997 (shows my age now), but seeing as that was a special event rather than a concert, I funnily do not put it into the same class as all the other concerts I have witnessed. But what I tell people what my favourite concert is Orbital live at the Brixton Academy back in March of last year.There is something indescribable about Orbital that puts a smile on my face every time I hear their records, but in the live arena, there is no group better.

26th October 2000, Orbital play in a night-club in Hammersmith (all right, I didn't know it was a night-club until I walked in through the doors, and I have to admit, it took my breath away as I saw the dance cages in the edges of the main floor area). Not being a Q Magazine reader, I didn't have a clue as to why Orbital had been chosen to commemorate their awards (which as I write, is still yet to take place), but I personally didn't care. Any chance to see these guys on stage is good enough for me!I liked the way that the main stage area that the pair would play on was wide, so there would be plenty of front row spaces for fans to see their idols in action. I managed to secure my front row position early on and waited. My excitement grew and grew as the DJ played more and more upbeat and pumping tunes to get us all in the mood. But I did not want to wait, I wanted Orbital. And dead on 9pm, I got my wish!

A Clockwork Orange came through the speakers and the crowd erupted, I have been to many heavy metal concerts, but I have to say I have never heard a crowd as loud as when Orbital came on stage. I was deafened within a minute!A new, slow number started off the show in fine form and lulled us all into a false sense of security, then BAM, the beats hit us all like Mike Tyson on acid! What the track listing was, I couldn't begin to tell you, as everything went by in a brilliant blur. The obvious tunes were there and did not disappoint. The new stuff is some of the best they have ever come up with and the new album is eagerly awaited. Fans will not be disappointed with the new material, and if it doesn't gain them any new fans, then I be greatly saddened (although, I silently hope they don't get any more, as that would mean that their future gigs will be even harder to get tickets for!!!!).Satan rules!It's official!!!As soon as the first few notes were played, me and my friend Steve headbanged like the true metallers we are! Kirk Hammet's guitar riffs (although seemingly low in the mix (too much bass line?)) was enough to make us fly into a frenzy. Since the Spawn collaboration, I feel that this song is fast developing into a real metal monster - a well-timed new live version release of this classic could only increase Orbital's chances or cracking a new market.

All I can say about this is even now, 3 days later, my neck is still sore after the aural assault that is Satan!There were some TV cameras about the place and I can only wonder why they were there, but I'm sure there is some fine moments captured of the only 2 people wearing heavy metal t-shirts in the sea of clubbers!! I even got to chat with Toby, a guy who used to be a camera man on the Big Breakfast (a cool breakfast time programme here in the UK). I know this is a bit sad, but I like this guy and have noticed him around in a few programmes, so it was cool to speak to him.Anyhow, I stated that my 2nd best concert was Orbital at Brixton, what do I think now?Orbital is now at no 2 and 3 in my personal chart of concerts.Orbital at Hammersmith Palais almost rivals the top spot. Had it been on one of my birthdays, it would be top!

And to cap it all off - I met Phil Jupitus in a Tescos on the way home at 1.15 in the morning.I love this comedian and I couldn't believe that I was speaking to him. He seemed gutted that he had missed out on seeing Orbital in concert and asked me and Steve all about it!My ticket is now signed by a celebrity!Easily one of the best nights of my life!!! Here's looking forward to the full-fledged tour when the new album comes out. Catch them if you can, you will not be let down!


Review #3 - Niall

Orbital last night were excellent: small venue (very small: if stood at front would have been able to easily touch them and their machinery!), everyone desperate for them to do the right thing! no drugs, which was odd; apart from the first time I saw them, back in October 91, supporting the Shamen, I've been spangled (for better and for worse) at key moments in the gig!

Strange mixture of songs; most from The Middle of Nowhere album, but then, to my mind, not even the best ones. Tracklist (insofar as I could remember it, though I wasn't even drunk!) with comment follows:

1) Untitled New Song: opens with beautiful, tranquil, ascending(?) chord sequence before breaking down into looping breaks, stacatto bass slow(ish tempo), soaring female vocals (all I can say is that she must be a looker) gradually layered on; track performs that thing that only Orbital can do, where it starts slowly but acquires greater urgency without speeding up: if this song was a colour, it would be the blue you might expect to find 20 yards from shore in perfect desert island. Segues into...

2) Spare Parts Express: as on the album, only that crazy synth sound which swings form one speaker to the other on the record is amplifies and strung out so as to make any one pilled up cross there eyes: concludes with straight down the middle, four to floor bass beat (which the crowd love), which in turn becomes...

3) Impact: Totally fucked up, back to front breaks extravaganza! Crowd goes mental; Stuck behind tallest bloke in the fuckin' universe, and he's wearing a sweater!

4) Know Where to Run: Very much as on the album

5) Halcyon: Belinda Carlisle and Bon JovI: you know the score: crowd now moves into next stage of mental; everyone, but everyone has hands in the air at the end.

6) The Box: Marking a change in atmosphere, four to the floor opening for claustraphobic masterpiece before exploding into familiar, belly-quaking rolling thunder...

7) I Don't Know You People: As on the album, chunkier guitar, perhaps the least well received track of the night and prelude to a full-on, hard as fuck descent into darkness (I think this is the bit you might have enjoyed most mate!), its breaks all that's left at the end as it rolls into...

8) Untitled New Song: Thunderous, jungle drums, funky hi-hat, weird circular wailing sound in the background, like being buzzed by a jet, get the fuck out of my way because here comes the really scary one...

8) Untitled New Song: weird punk beat, done in kind of 80's synth drum sound, bleeds through from last track, heralding arrival a number that tears the top of your head off and shits down your neck! Any poor fucker down the front doing a pill at this stage is gonna think he's going to hell. Lots of chopped up, heavy metal guitar. Impossible to describe: aural fireworks, orchestrated dissonance, this a gargantuan headfucking tune. And very, very long. Set Ends.

Encore. The Usual Suspects.

9) Satan: Picking up where they left off, the pictures of the lights display reminding you (if anyone needed reminding) that we live in a dark, dark world. Guitars mad chunkier, darker than on record.

10) The Theme From Doctor Who/Chime: Breakbeat madness! Chime is super speeded up. Predictable madness ensues until conclusion of one of the best gigs they've done. !


If you can help contribute to any of these sections then please use this email address.

Use the navigation menu above to select the year of your choice or use the navigation menu on the left to select the gig of your choice..

If there are any spelling mistakes or any other problems then please inform me via email.
No data on/from this page can be used without written permission