| | |
| --- | --- |
| | 1st May - Wolverhampton, UK |
| | 2nd May - Liverpool, UK |
| | 5th May - Brighton, UK |
| | 6th May - St Austell, UK |
| | 7th May - Leicester, UK |
| | 9th May - London, UK |
| | 10th May - Sheffield, UK |
| | 11th May - Cambridge, UK |
| | 12th May - Glasgow, UK |
| | 13th May - Edinburgh, UK |
| | 14th May - Newcastle, UK |
| | 15th May - Manchester, UK |
| | 22nd Jun - Organic Festival , USA |
| | 11th Jul - Tampa , USA |
| | 12th Jul - Miami, USA |
| | 04th Dec - Hollywood, USA |
| | |
| | |
| | |
| | |
| | |
| | |
| | |

TOURS - 22nd June 1996 - Organic Festival - Snow Valley Ski Resort, California - USA
Picture Contribution - Tooncin8r
Ticket Contribution - Satyajot (Ajay) Sharma
Review Contribution - Satyajot (Ajay) Sharma
Set List Contribution - Satyajot (Ajay) Sharma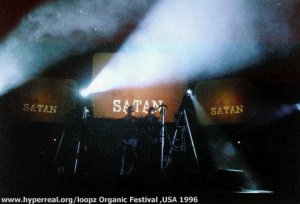 Click on Image to view FULL size
Set List
Out There Somewhere, Choice, The Box, Lush, The Girl with the Sun in Her Head, Satan, Halcyon, Forever and Impact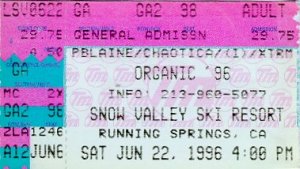 Review
This was part of the Organic 1996 Festival and they played with the Orb, Chemical Brothers, Underworld, Loop Guru. Review: I arrived at the show around 5:30pm even though the first band, LoopGuru, wasn't scheduled until 7:00pm. Orbital didn't take the stage until 1:00am. This was my first "rave" and it is the best concert I have ever seen in my life. Everyone who performed was amazing (except the Orb).

I'm pretty sure this was Orbital's set: Out There Somewhere, Choice, The Box, Lush, The Girl with the Sun in Her Head, Satan, Halcyon, Forever and Impact. I had never seen Orbital before and I wasn't a HUGE fan at the time. The only song I knew was Halcyon from the Hackers soundtrack. The localradio station gave me a copy of Insides (the first 2cd US version) for freeand after the show I bought the rest of their albums. Orbital put on an amazing performance. I remember how none of the lights ever hit Phil or Paul and the only thing you could see were the two lights from their headsets bobbing up and down with the beat. It looked like two aliens behind the keyboards. They were easily the best act of the night.
If you can help contribute to any of these sections then please use this email address.

Use the navigation menu above to select the year of your choice or use the navigation menu on the left to select the gig of your choice..

If there are any spelling mistakes or any other problems then please inform me via email.
No data on/from this page can be used without written permission