| | |
| --- | --- |
| | 1st May - Wolverhampton, UK |
| | 2nd May - Liverpool, UK |
| | 5th May - Brighton, UK |
| | 6th May - St Austell, UK |
| | 7th May - Leicester, UK |
| | 9th May - London, UK |
| | 10th May - Sheffield, UK |
| | 11th May - Cambridge, UK |
| | 12th May - Glasgow, UK |
| | 13th May - Edinburgh, UK |
| | 14th May - Newcastle, UK |
| | 15th May - Manchester, UK |
| | 22nd Jun - Organic Festival , USA |
| | 11th Jul - Tampa , USA |
| | 12th Jul - Miami, USA |
| | 04th Dec - Hollywood, USA |
| | |
| | |
| | |
| | |
| | |
| | |
| | |

TOURS - 11th July 1996 - Tampa - USA
Set List Contribution - Anthony Bryan
Picture Contribution - Anthony Bryan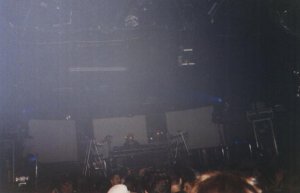 Click on Image to view FULL size
Set List
Intro ("The Space March" - John Barry), Out There Somewhere ?, Choice, Lush 3, The Girl With The Sun In Her Head, Dwr Budr, The Box, P.E.T.R.O.L, Satan, Halcyon, Forever, Chime and Impact.

If you can help contribute to any of these sections then please use this email address.

Use the navigation menu above to select the year of your choice or use the navigation menu on the left to select the gig of your choice..

If there are any spelling mistakes or any other problems then please inform me via email.
No data on/from this page can be used without written permission