TOURS - End of October - Storm - The Pier Head - Hastings
Information Contribution - YH
STORM! Review Contribution - YH

DJ's included Colin Dale. PA - Orbital and Ten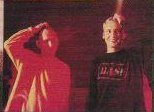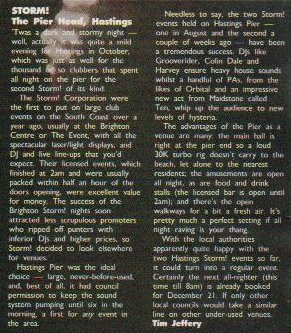 It was a dark and stormy night - well actually it was a quite a mild evening for Hastings in October, which was just as well for the thousand or so clubbers that spent all night on the pier for the second Storm! of its kind.

The Storm! Corporation were the first to put on large club events on the South Coast over a year ago, usually at the Brighton Centre or The Event, with all the spectacular laser/light displays and DJ and live line-ups that you'd expect. Their licensed events, which finished at 2am and were usually packed within half an hour of the doors opening were excellent value for money. The success of the Brighton Storm! nights soon attracted less scrupulous promoters who ripped off punters with inferior DJs and higher prices, so Storm! decided to look elsewhere for venues. Hastings Pier was the ideal choice - large, never-before-used and best of all, it had council permission to keep the sound system pumping until six in the morning, a first for any event in the area.

Needless to sat, the two Storm! events held on Hastings Pier - one in August and the seoncd a couple of weeks ago - have been a tremendous successs. DJs like Grooverider, Colin Dale and Harvey ensure heavy house sounds whilst a handfull of PAs, from the likes of ORBITAL and an impressive new act from Maidstone called Ten, whip up the audience to new levels of Hysteria. The advantags of the Pier as a venue are many, the main hall is right at the pier end so a loud 30K turbo rig doesn't carry to the beach, let alone to the nearest residents, the amusements are open all night, as are food and drink stalle (the licensed bar is open until 2am) and theres the open walkways for a bit of fresh air. It's pretty much a perfect setting if all night raving is your thing.

With the local authorities apparently quite happy with the two Hastings Storm! events so far, it could turn into a regular event. Certainly the next all-nighter (this time till 8am) is already booked for December 21. If only other local councils would take a similar line on other under-used vocals.

If you can help contribute to any of these sections then please use this email address.

Use the navigation menu above to select the year of your choice or use the navigation menu on the left to select the gig of your choice..

If there are any spelling mistakes or any other problems then please inform me via email.
No data on/from this page can be used without written permission